CSX NETWORK APPLICATION AND CONFIGURATION
The Cybersecurity Nexus (CSX) Network Application and Configuration (CNAC) course provides students a fundamental understanding of how to establish, enhance, and enable organizational networks. Students will work with real networks in real environments and will leverage real tools, techniques, and skills to complete tasks in a cybersecurity environment. Upon completion, students will be able to set up networks, troubleshoot issues, and mitigate specific network-based attacks– valuable traits in the cybersecurity field.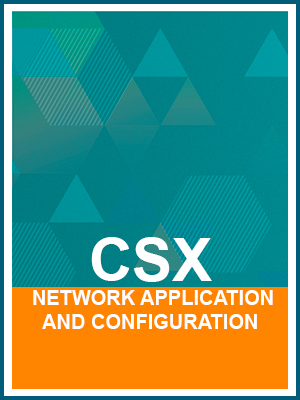 CONTENUTO:

Introduction to Networking Concepts

(Lesson)

- Understand the OSI and DoD TCP/IP models;

- Review commonly used ports and protocols;

- Understand various network types;

- Review network topologies and media types;

Initial Configuration

(Lab/Instructional)

Understanding how to configure a firewall and/or gateway for a first use instance is one of the most important elements of establishing a properly functioning network. In this lab, students will set up a pFsense configuration.

Router Familiarization

(Lab/Instructional)

Without understanding the command line interface (CLI) or the graphical user interface (GUI) of an organization's gateway and/or firewall, cybersecurity analysts find themselves lost in confusion when an incident occurs. This lab will familiarize students with the CLI and GUI of pFsense, one of the preeminently used open-source firewalls available to organizations.

IP Addressing

(Lesson)

- Learn the Internet Protocol addressing schemes;

- Learn about subnet masks and class subnetting;

- Review common IP address related protocols;

Setting up a LAN and a WAN

(Lab/Instructional)

Understanding the difference between a Wide Area Network (WAN) and Local Area Network (LAN) connection is pivotal to cybersecurity analysts and network engineer's alike. Regardless if an individual is an incident responder or a help-desk technician, it is important to understand the different types of networks and how they impact an organization. In this lab, students will set up and conduct basic configuration of a WAN and LAN interface on a gateway.

Connecting Clients

(Lab/Instructional)

Cybersecurity professionals understand that most clients do not magically connect to a network unless Dynamic Host Configuration Protocol (DHCP) is involved. Even then, the use of DHCP needs to be established at key points within a network and requires configuration. In this lab, students will work to ensure that clients are able to connect to a network properly.

Establishing a Network

(Lab/Challenge)

Cybersecurity professionals should be able to set up and backup their router and firewall configurations in the event of an incident. Ensuring that these backups are on hand is pivotal, yet, more important is that they exist in the first place. Students will implement what they have learned thus far to ensure that a network is established and a backup of it is secured.

Network Threats and Response

(Lesson)

- Security weaknesses of networks;

- Identification of threats and vulnerabilities;

- Security assessments and testing;

- Common threat types;

- Tools used to monitor and protect network assets;

Security Mechanisms

(Lesson)

- Learn the importance of network security mechanisms;

- Identify and implement various system hardening techniques;

- Determining security that meets your needs;

- Identify commonly targeted entry points;

Basic Configuration

(Lab/Instructional)

Simply providing connectivity to an organization is insufficient when considering cybersecurity implications. Ensuring that a firewall is properly configured will guarantee a higher degree of safety when organizational users access to network resources. In this lab, students will learn how to navigate a firewall interface to establish appropriate protection mechanisms for organizational users.

Port Forwarding and VPN Setup

(Lab/Instructional)

Many organizations make use of virtual private networks (VPNs) to protect data coming into and leaving the network. Many remote workers, for example, rely on VPNs to ensure that they can securely work on a corporate network from a distance. In this lab, students will set-up and perform preliminary configuration of an organizational VPN.

Exploitation Identification and Response

(Lab/Instructional)

Identifying when an exploitation is on a network is one of the key abilities which separates a cybersecurity professional from other IT work roles. Identifying when an exploit is sending data out of a network of responsibility and stopping the data leakage ensures that organizations can safely commence disaster recovery proceedings without losing additional data. In this lab, students will learn how to identify and block an exploitation on their network of responsibility.

Backup and Recovery

(Lesson)

- Understand the importance of network availability

- Identify common issues that must be overcome

- Review a variety of storage approaches

- Understand the importance of patch and update management

Detecting, Responding, Recovering from a Network Attack

(Lab/Challenge) Students have learned a myriad of networking skills throughout this course and this final challenge will require them to critically apply all of their newfound talents to an incident occurring on their network of responsibility.
ESAME:

The CSX Network Application and Configuration Certificate Exam assesses candidates understanding of network establishment and configuration. The two-hour exam is a real-time, hands-on exam which challenges students to demonstrate their skill set in a live environment. This two-hour exam contains no multiple-choice questions or simulations and intentionally restricts access to the internet. Where applicable, man pages and help files are available. Continuing Professional Education (CPE) Credit Count: 4 (2 CPEs per examination hour) when a passing score is achieved.

Objectives:
Candidates must complete tasks of varying durations with minimal instruction while navigating between multiple virtual machines and are expected to:

Demonstrate an ability to:
- Implement the OSI and DoD TCP/IP models;
- Enable and disable commonly used ports and protocols;
- Establish various network types;
- Implement and maintain network topologies and media types;
- Implement and maintain the Internet Protocol addressing schemes;
- Implement subnet masks and class subnetting;
- Leverage common IP address related protocols;
- Enhance security weaknesses of networks;
- Identify threats and vulnerabilities;
- Implement security assessments and testing;
- Assess common threat types;
- Leverage tools used to monitor and protect network assets;
- Implement network security mechanisms;
- Identify and implement various system hardening techniques;
- Determine security that meets your needs;
- Identify commonly targeted entry points;
- Identify common issues that must be overcome;
- Implement a variety of storage approaches;
- Implement patch and update management;

Students must be comfortable leveraging networking tools, specifically:
- PfSense;
- Wireshark;
- Linux Terminal commands;
- Networking configuration tools;

LIVELLO:
BEGINNER
DOMINIO:
PROTECT
PREZZO ESAME:
250,00 € + IVA
CREDITI: 16 CPE + 4 per l'Esame, per il mantenimento delle certificazioni ISACA